Sinz Family Crest
From Sinz Family Wiki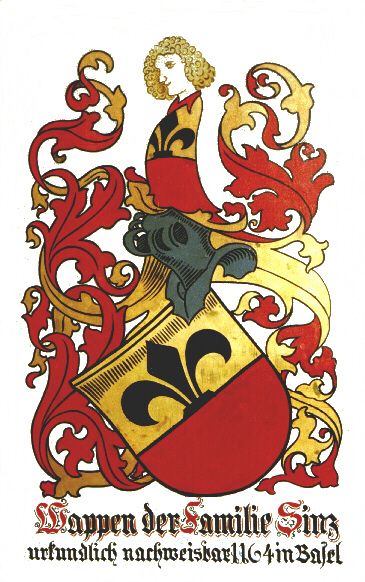 The image to the right is a resized and touched up scan of an old document that shows the Sinz Family Crest and the text describing that the Sinz Family was founded in the year 1164 in the town of Basel (which is now in Switzerland).
The Sinz Family continues to exist today with members around the world.
The Sinz Coat of Arms are dated from 1164 in the cathedral of Basel, Switzerland. It is documented that it was there to be seen with other arms until 1597 when they were removed during restoration work. That means that the Sinz family is one of the oldest patrician family of Basel.
The ancestral seat was the ruins of the Schauenburg castle in the valley of Basel Liestal. From 800 up to 1517 the Roman imperium within Switzerland was governed by Germans, therefore it may be that the family is of old German ancestry.
The male person in the arms is probably one of the ancestors. The long hair means that he was independent, the dependent wore his hair short. The lily as the symbol of purity admonishes to keep the name with honour. The indented crowns with two peaks signify that the ancestors had nobility.